The MHF Foundation contributes in a variety of ways to improve the comfort of patients' overall experience during a hospital stay.
"The presence of the Foundation through both the comfort bags and grants to our patients helps to bring to light our amalgamation of knowledge, dedication, world-renowned medicine, and caring compassionate nursing."
Nicole Zarella, an oncology nurse at Tufts Medical Center.
"Have you ever had a painful mouth? Michael did and now there is chapstick in the bag along with a soft toothbrush. Have you ever just wanted to get away from it all? Michael did. Now there is a CD player with inspiring CD's. "
Janice Maienza, RN
MSN Clinical Educator, Tufts Medical Center.
Comfort Bags are presented to each new Leukemia induction patient and to those admitted on the Bone Marrow Transplant Unit at our partner hospitals. Since 2002, over 1000 patients have received this bag. The Comfort Bag includes items to help comfort and pass the time during the treatment of this terrible disease, such as a phone card, a Turtle Fur fleece hat, CleanRest blanket and pillow, colorful eye pack, a journal, a funny read, many essential personal hygiene items, and playing cards.These canvas bags are full of many thoughtful items — many of which are based on Michael's experience.
We have recently added the crowd favorite, Bananagrams, to the Comfort Bags. Bananagrams has allowed Mikes Foundation to purchase the popular game at wholesale rate to make sure everyone can go bananas.
What goes into a Comfort Bag
Custom made canvas bag
Gentle skin wipes
Soft toilet tissue
Dove unscented soap
Soft Kleenex
Chapstick
Ava Anderson Non Toxic baby lotion
Gel eye mask, can be used cold or hot
Journal with pen
Light read, currently using A Teaspoon of Courage
Love Your Melon knit beanies
CleanRest sealed pillow and small blanket
Playing cards
Banagrams
Puzzle
Stress ball
Soft, colorful Gecko companion
Turtle Fur fleece cap
Soft toothbrush
Mouth Rinse
Queasy Drops hard candy
MHFF Brochure
Calming Tea
Crayons and Adult Coloring Book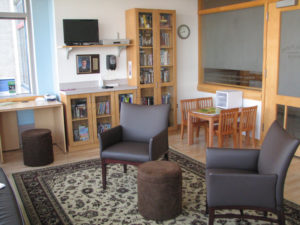 Michael's Foundation funded the renovation of a Family Room, located in the Bone Marrow Transplant Unit at Tufts Medical Center. This is a comfortable, soothing Family room with a child's area, views of the Boston skyline, a movie, music, and video library, books and toys for all ages.
At Tufts Medical Center, 9 Infusion Chairs were purchased which provide comfort to patients receiving and recovering from treatment. The chairs are a welcomed alternative to their hospital bed. A recent addition of a portable sleeper chair makes overnight stays possible when you want to have a family member spend the night.
The Oncology Floor Family Room at RI Hospital was a room we recently renovated to create a home- like atmosphere. Complete with coffee, couches, kids area and TV there is plenty of room to feel at home. The Miriam Hospital Fain Building has a massage room with a high quality massage table that we provided so that this service could be offered to oncology patients in a peaceful setting.
Grants are determined based on social worker requests from partner hospitals, based on individual patient needs. We carefully assess each grant request and determine whether it falls within our mission and set guidelines. To date, over 360 financial grants have been distributed.
On-Going Financial Assistance
Nursing Education, such as Reiki training.
Purchase of "Jacki" jackets, an alternative to the traditional hospital gown to ease chemotherapy.
Purchase of computers for Miriam Hospital for patient waiting area and education rooms.
Instituted a Hospitality Program at Tufts in the Oncology Clinic consisting of complimentary drinks and snacks for the patients with long treatment session.
Purchase of exercise bike and refectors for physical therapist to use in encouraging movement in the healing process.
Purchase of game systems (XBOX and Wii) as an option to TV in passing those long hospital days.
MHF Educational Advancement Fund
This is a brand new program we are offering to nurses in our partner hospitals.
A Nurse's Perspective
By Nicole Zarella, RN, one of Michael's oncology nurses from Tufts Medical Center.
In oncology nursing we have limited control over the outcome of the disease process; but as caregivers we have an unlimited ability to profoundly effect the appraisal of the oncology experience. During such high-tech times, caring and touch have become almost absent. We on North 8 pride ourselves with being devoted to the creation of equilibrium between the two. Your vision and charity facilitate such achievements. The presence of the Foundation through both the comfort bags and grants to our patients helps to bring to light our amalgamation of knowledge, dedication, world-renowned medicine, and caring compassionate nursing.
The recipients of the comfort bags thus far have been delighted. They have expressed countless thanks for being empowered for their journey. From the phone cards enabling them to maintain their familial contacts in and out of state, to the personal journals allowing them to document their experiences, to the bath and body products assisting them with the maintenance of their skin integrity, each item in the bags has had an immense impact. It is such a satisfying experience to witness the smile spread across one's face as they excitedly explore the bag and to know (however transiently) the fright of being newly admitted to the BMT unit has been diminished.
As an RN… I extend my gratitude to the munificent contributors to the Michael H. Flanagan Foundation. Through your contributions, and collaboration with our staff, you make visible our number one objective… patient and family satisfaction and comfort! Thank you!
By Nandini Narayanan, LICSW, Oncology Social Worker at Tufts Medical Center.
Walking with you on this journey,
You teach me so much.
In every moment you impart your wisdom.
I have learned from you that…
It is through fear that courage is born,
It through despair that peace finds its wings,
It is in the midst of hopelessness that the tiniest
Flicker of hope shines brightest.
It is in vulnerability that your heart opens to
Unconditional friendships and love,
It is in the face of uncertainty that you
Are moved to embrace faith
It is through tears that smiles sometimes
Taste the sweetest
It is also through loss that we may gain
Liberation and wholeness.
It is through surrender that you trust that
The journey has its hidden miracles, its gifts
It is through our shared journey that we receive
Each other's love with humility, with grace.
I thank you for being my teachers every day.